Outdoor Cleaning Services
in Wollongong
Restoration of Tiles and Concrete to
Their Original State.
Having a clean and well-maintained outdoor space is essential to creating a welcoming atmosphere for your home or business. Magic Touch Outdoor floor cleaning services can help you achieve this by providing professional and efficient cleaning services for your outdoor surfaces.
Here are some of the benefits of using Magic Touch Outdoor floor cleaning services:
We use state-of-the-art equipment and eco-friendly cleaning solutions to ensure that your outdoor surfaces are thoroughly cleaned without causing any harm to the environment.
Our team of experts are highly trained and experienced in cleaning a wide range of outdoor surfaces, including concrete, brick, stone, and wood.
We offer flexible scheduling options to ensure that our services are convenient for you and your busy schedule.
Our services are affordable and competitively priced, so you can enjoy a clean and beautiful outdoor space without breaking the bank.
Whether you need your driveway, patio, or outdoor walkway cleaned, Magic Touch Outdoor floor cleaning services has got you covered. Contact us today to schedule your first appointment and experience the difference that our professional cleaning services can make for your outdoor space.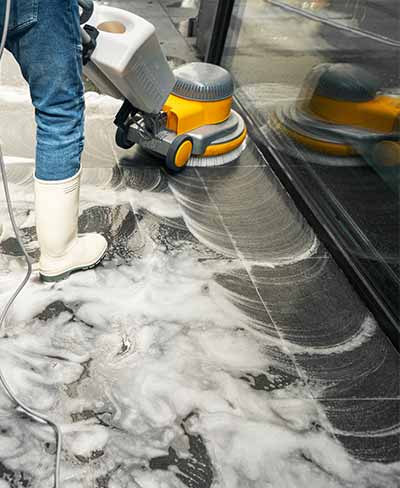 outdoor floor cleaning services offered by Magic Touch. Here are some potential services that can be included in your list:
Pressure washing: Magic Touch can use high-pressure water sprayers to remove dirt, grime, and stains from outdoor surfaces such as concrete, brick, and stone.
Soft washing: For more delicate surfaces like wood or vinyl, Magic Touch can use a gentler approach that involves using low-pressure water and specialized cleaning solutions to safely remove dirt and stains.
Surface sealing: After cleaning, Magic Touch can apply a protective sealant to help prevent future dirt and stains from penetrating the surface.
Graffiti removal: If your outdoor surfaces have been vandalized with graffiti, Magic Touch can use specialized techniques to remove the paint without damaging the underlying surface.
Parking lot cleaning: Magic Touch can also clean and maintain parking lots, including sweeping, pressure washing, and line striping.
Outdoor Floor Cleaning Services: Contact Magic Touch for More Information
If you're looking for outdoor floor cleaning services, Magic Touch has got you covered. Get in touch with us today to learn more about what we have to offer.

Professional Outdoor Cleaning  in Wollongong
. Looking for high-quality Outdoor cleaning services in Wollongong? Look no further than Magic Touch Carpet and Tile Cleaning. We provide top-notch professional services to meet all your outdoor cleaning needs.